The Only Good Bug Is A Dead Bug
Finding meaning in killing tens of thousands of video game bugs.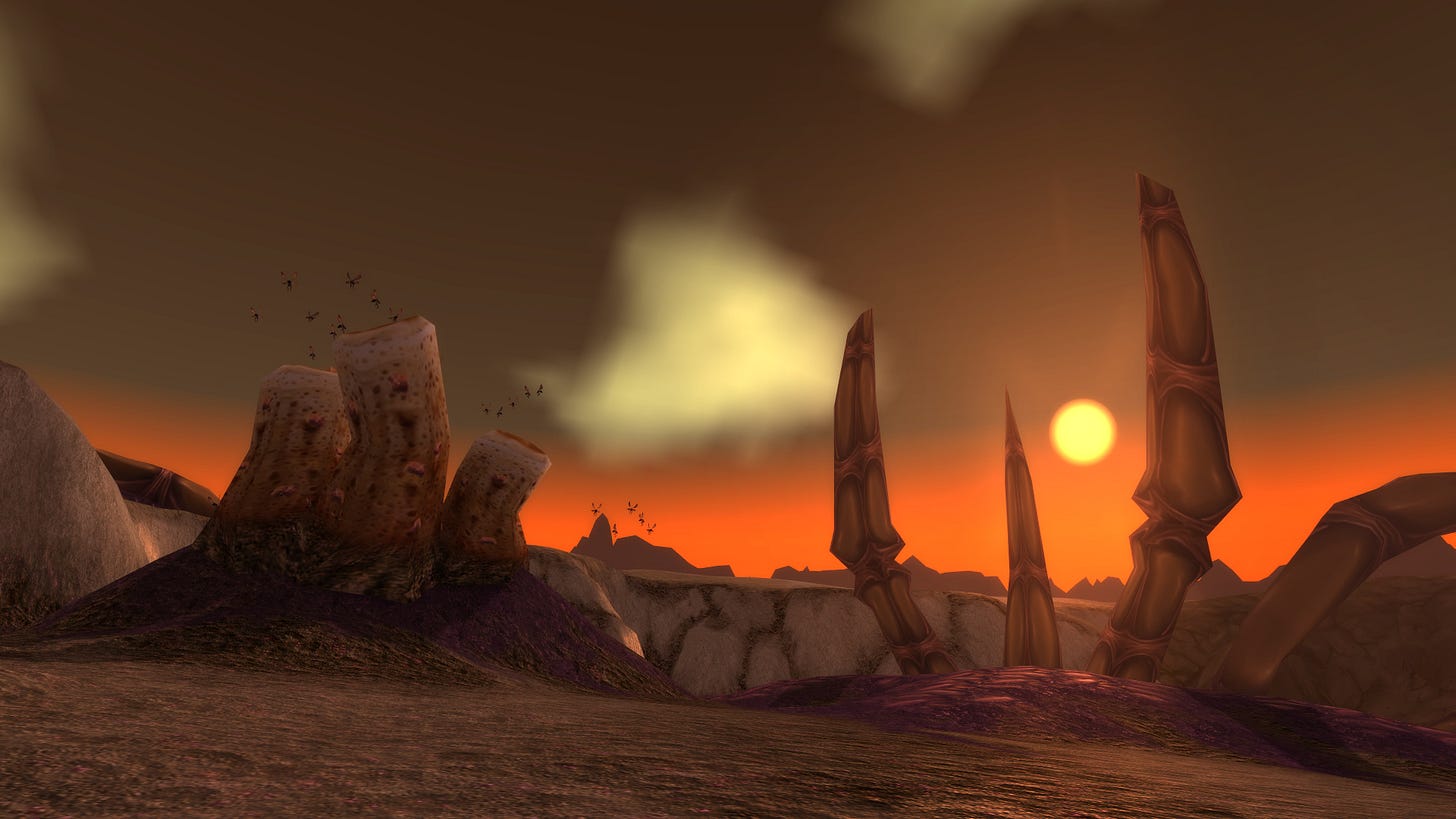 Lately I've done nothing but kill bugs in World of Warcraft Classic. 
Every day for the past week I've logged in, joined a group with my guildmates and then we spent the next several hours killing bugs. We have sign-up sheets and shift changes for bug killing. We've come up with our own names for the bug spawn locations  — The X, The Butthole, The Nipple, Cupping Room. We've memorized the spawn timers. Every few minutes a new bug spawns, and within seconds it's dead.
Hour after hour, day after day we do this. And everyone agrees that it's the most fun we've ever had playing World of Warcraft.
We're spending our precious leisure time killing tens of thousands of video game bugs because last week Blizzard released the next two raid dungeons in Classic: the Ruins and Temple of Ahn'Qiraj. Well, sort of. 
The thing about Classic — and much of World of Warcraft up until the game's third expansion — is that you can't just walk into a raid dungeon with your pals and kill bosses. You need to be "attuned" to the raid dungeon, which is a cool way to say that you need to do a bunch of quests to unlock it for your character. 
For Ahn'Qiraj, which originally released in 2006, Blizzard decided to switch things up and instead of putting the responsibility on individual players to unlock access to raids, they put it on entire servers. "The War Effort," as it's called in-game, requires both factions, Alliance and Horde, to collectively amass a truly stupid amount of materials before anyone can step foot into Ahn'Qiraj. Thematically, this is because the gates to AQ have been sealed shut, and to open them would unleash a massive bug army, thus requiring an opposing army to stop the bugs. Armies need supplies, and thus The War Effort. Mechanically, it's an ambitious attempt to unify the player base around a common goal: both Horde and Alliance must complete their War Effort supply quotas before the gates can be opened. The War Effort, however, is only half the battle. (ha ha).
While an entire server is trying to wrangle something like 800,000 Linen Bandages, 90,000 Copper Bars, 10,000 Lean Wolf Steaks and so on, individual players are trying to complete the Scepter of the Shifting Sands — the item that, when used to ring the Scarab Gong after the completion of the War Effort, will lift the magical seal, opening the gates and beginning the 10-hour battle for Ahn'Qiraj.
The quest line for assembling the scepter is one of the hardest, most time-consuming in the entire game — over the course of 26 different quests, players must clear multiple raid dungeons, kill numerous world bosses, locate a number of items strewn across the world, and most infamously, collect just over 42,000 Silithid Carapace Fragments from the three Silithid Hives outside Ahn'Qiraj. Only one player can complete the scepter, but to do so requires the support of an entire guild spending thousands of hours helping their would-be Scarab Lord complete the quest line.
This is why we have spent the past week doing nothing but killing bugs.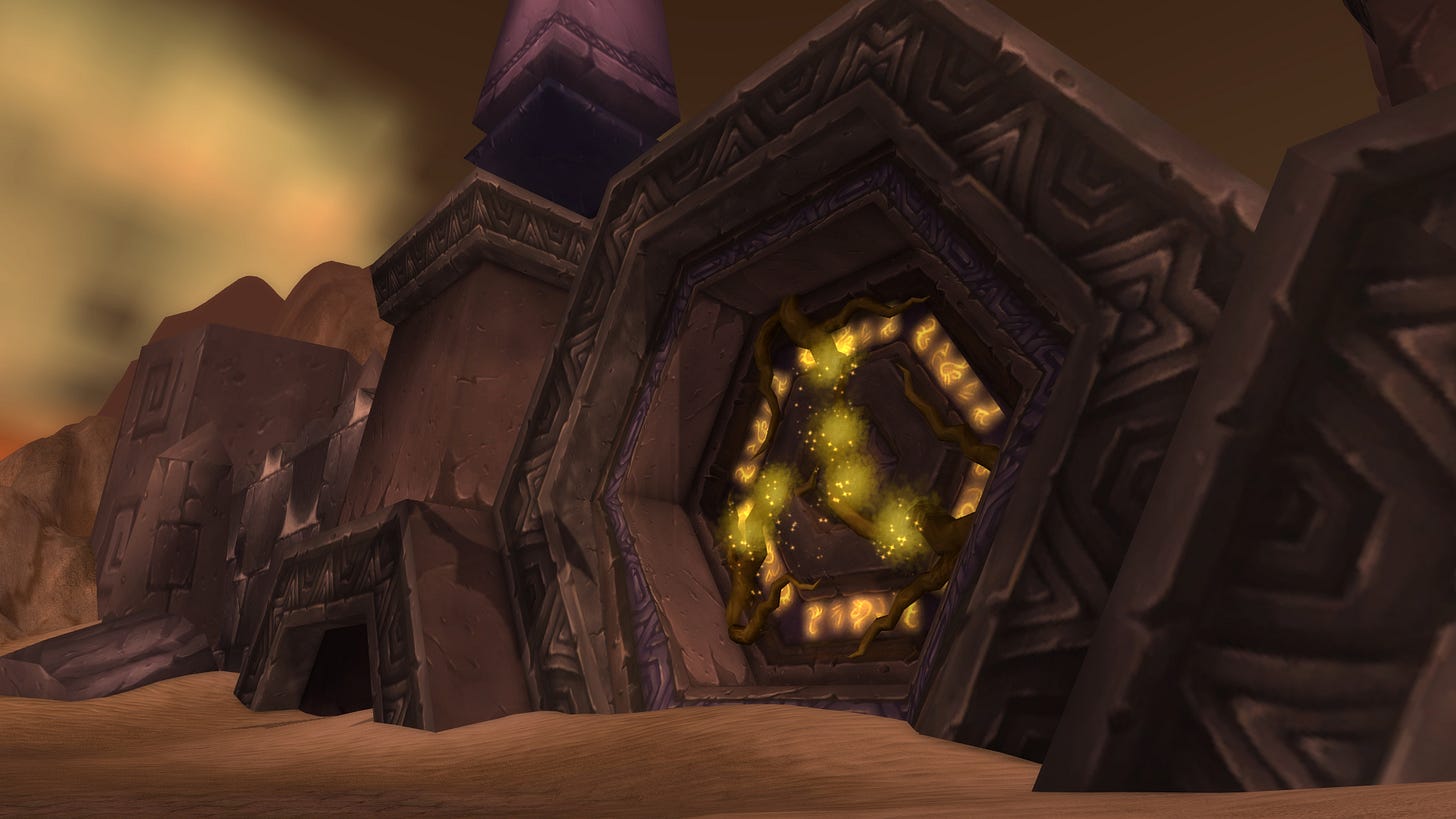 Being the first to complete your scepter and having the honor of opening a brand new raid dungeon for your server isn't the only thing driving players to assemble the scepter, however. The first player to complete the scepter and ring the gong (and technically any other player who is able to ring the gong before the 10-hour battle ends) is awarded with the Black Qiraji Resonating Crystal. This makes it one of the rarest items in the game, as less than 0.01% of the player base can say they have one.
When Ahn'Qiraj was originally released in Vanilla, there were only a handful of people on each server who had the time, resources and motivation to actually take on the task, so competition was minimal. When I was playing, the guild I was in hadn't even cleared Blackwing Lair by the time the War Effort began — the scepter quest line was assumed to be something for the top guild on the server to take care of while the rest of us struggled to catch up in progression. 
In Classic, however, at this point most players are decked out in the best gear in the game after clearing Blackwing Lair every week for the past six months. By now, every Guild Master fancies themselves worthy of becoming a Scarab Lord. Which, over the course of the past week, has turned out to be a little bit of a problem.
You see, there are only so many bugs crawling around in each of the three hives outside of Ahn'Qiraj. You kill one bug, and its replacement doesn't spawn until anywhere between 2 to 15 minutes. With so many guilds fighting over limited numbers of bugs, a thing you commonly see is three players of the same faction sitting on top of a bug spawn, each trying to hit the bug before the other two — effectively "tagging" it for themselves and thus claiming the Silithid Carapace Fragment off its corpse.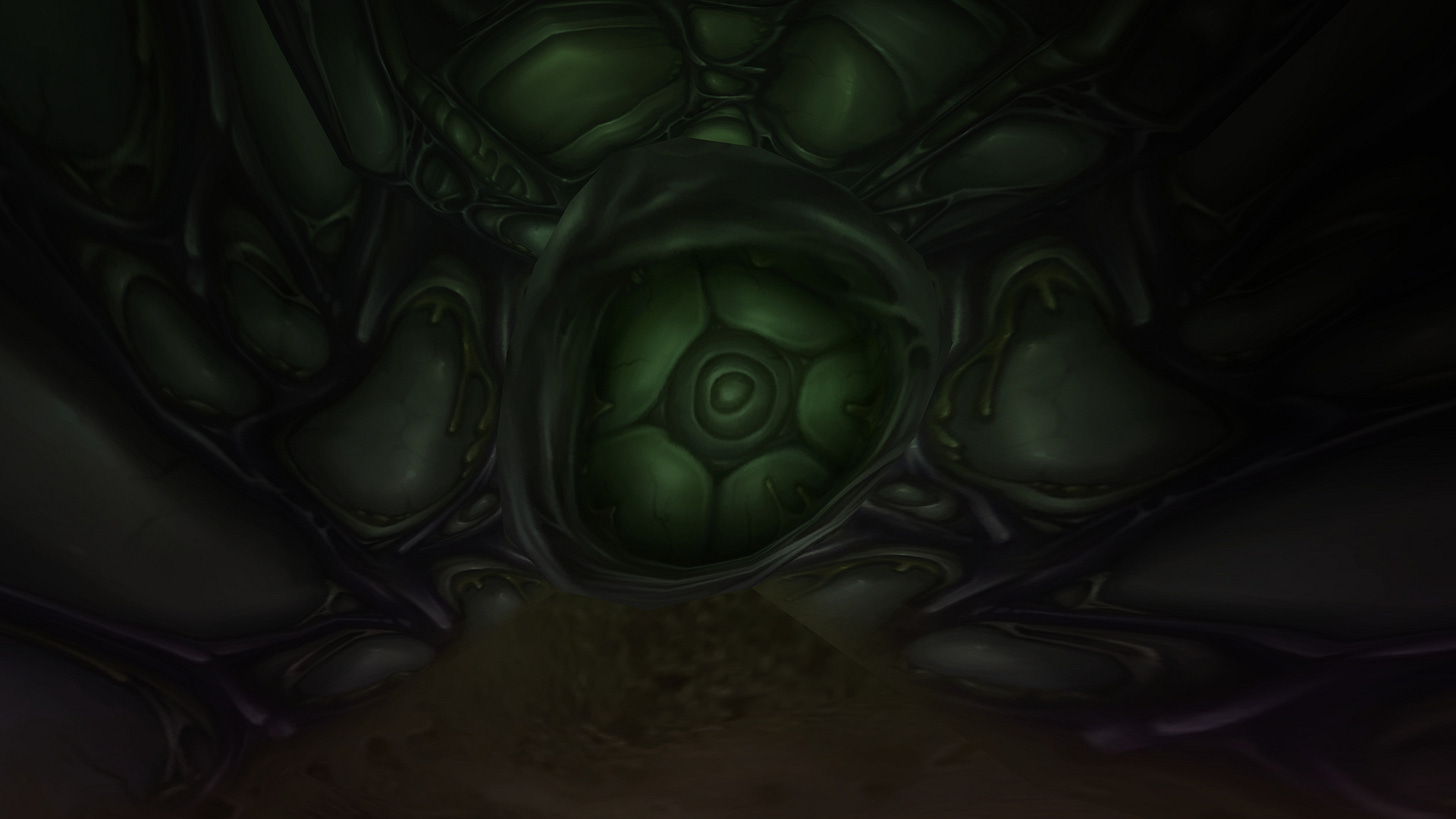 Hour after hour we would sit in a hive, fighting with competing players from other guilds for these "tags," cursing their existence as they "stole" bug after bug from us. After two frustrating days, we got desperate. We started assigning players with lower pings to valuable spawn points in the hopes that their lower latency would make it easier to beat out other players. We came up with attack macros, and bound them to our scroll wheels, hoping a deluge of inputs would out-spam our competitors. Killing bugs became both monotonous, and contentious. Do nothing for 14 minutes, then spend 30 seconds furiously spinning your scroll wheel to spam your attack macro and win the tag on a bug.
These tactics only went so far, however. Eventually, larger Horde guilds began to make pacts with Alliance guilds, hiring them as roving hit squads to kill us as the competing horde guild moved in on our territory while we respawned.  One particularly unfortunate guildmate had to endure an entire night of getting killed over and over again by one Alliance hit squad, all while watching a colluding Horde guild farm bugs untouched, mocking his corpse. 
After the second day of struggling to kill bugs, I found myself becoming deeply suspicious and hostile towards anyone who wasn't in my guild. Those who walked into our little corner of the hive were instantly assumed to be a threat, here to either mess with us, call in a hit squad or start stealing our bugs.
Accusations of collusion over our server discord began to fly, in-game chat filled with unending shit-talking and trolling, while players who I was competing for tags with would regularly whisper insults to me, telling me that I was bad at the game and should just give up. All of this, for a bug mount.
It's pretty funny that an event designed to bring entire servers together over a common enemy (and better loot) has, 15 years later, only served to pretty much turn every player against each other.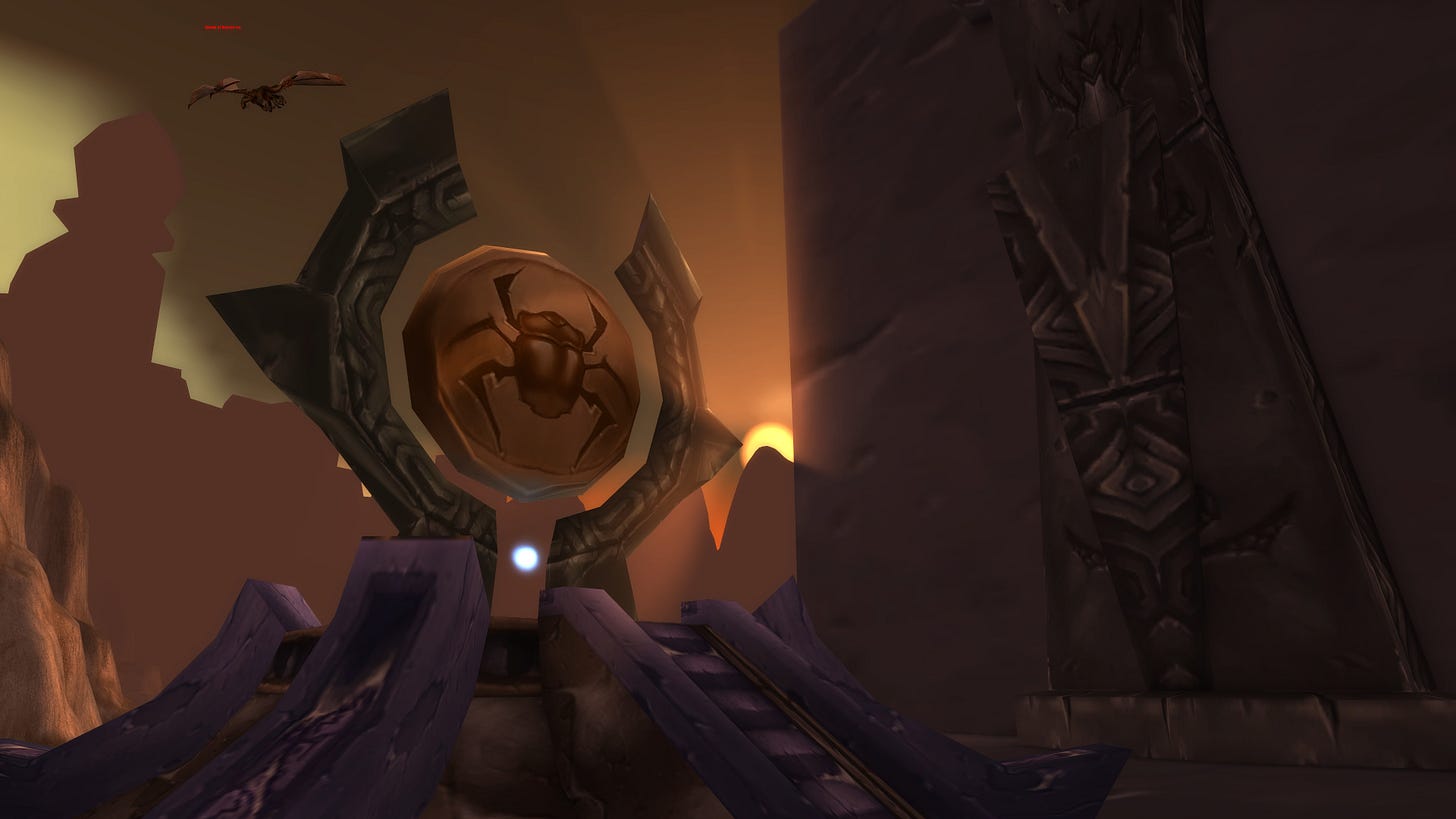 In a weird way, though, I've gotten to know some guildmates better over the past few days killing bugs than I have in months of raiding with them. At some point, it just started to feel like a dumb job but in the good way where things are dead and you and your coworkers are just sitting around bullshitting and commiserating about how much this sucks. Like, the actual act of killing bugs was just absolutely awful, but it was nice to know that there were at least a half-dozen or so people also enduring the same mindless bullshit with me.
Eventually, the horde guilds came to an agreement and equitably divided hive territory between them. I thought about making a socialism joke — you see planned economies DO work, and fighting over scarce resources actually hurts all of us while a small minority benefit — but I was to tired from killing bugs and also I haven't read a lot of theory I have to admit because I play World of Warcraft instead.
You'll be glad to know that on Tuesday we finished our Silithid Carapace Fragment collection. Only our Guild Master will have the honors of ringing the gong, and while I didn't necessarily subject myself to digital bug-killing solely for his benefit, I have to say it's been one of the most unique experiences I've ever had in a video game. 
One weird thought that struck me while I was sitting in a bug hive, waiting for the next bug to spawn, is that I will probably never do this again in my entire life. And in that way, although it was a boring, tedious way to play a game, it was also a once-in-a-lifetime experience. It's just a little funny, and a little special to think about looking back at the time I spent a week doing nothing but killing video game bugs as this defining moment in video games for me. To place so much meaning on such a simple act of sitting at my computer and furiously spinning my scroll wheel, well I suppose that's just life — to find ourselves in something that only makes sense to us. Why else would you spend your time on this planet killing video game bugs?
Next week: I'm not very good at making money… in World of Warcraft.