A Miserable Pile of Secrets
On growing up playing World of Warcraft, and lying to everyone about it.
Welcome to World of Stevecraft, a newsletter where I try to justify dumping hundreds of hours into World of Warcraft Classic by writing about it regularly. This first edition is about being a teen in suburban Connecticut, identity, secrets and you guessed it World of Warcraft.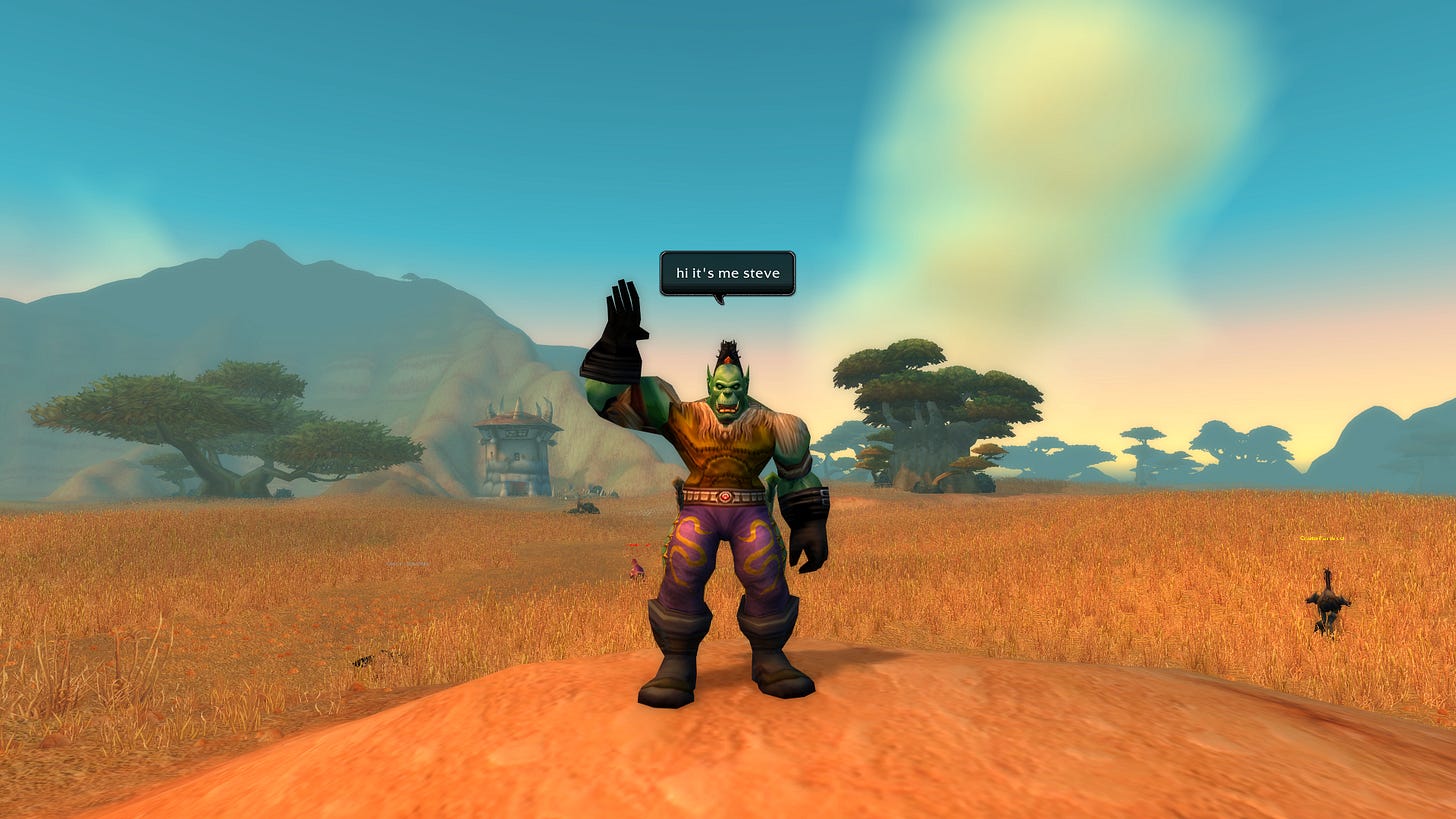 Here is something that most people do not know about me: From 2005 to 2009 I obsessively played World of Warcraft. During those four years I spent hundreds of hours grinding two characters to 60, first a Dwarf Paladin and then an Orc Rogue. And then I spent thousands more tackling WoW's endgame in a high-level hardcore raiding guild, where I earned some of the game's best loot, achieved some server-first boss kills and most importantly, got to intimately know a group 20-40 strangers over the internet. Some of whom I still play with today.
By sheer time spent alone, regularly dumping 25-30 hours a week, World of Warcraft made up a significant part of my teenage identity. And I told absolutely no one about it. It was my secret, and it sounds silly to say as a 30-year-old straight white guy, but I was terrified of people finding out that I played WoW.
It started, as most things do, in high school, where I had a perfectly average suburban Connecticut white kid experience. I played sports. I took AP classes and got good grades. I wore American Eagle and listened to Taking Back Sunday. And my friends were, more or less, just like me. They even liked video games just as much as I did, content to spend a Friday night playing Halo 2 from the comfort of someone's finished basement. I had found the acceptance that every teenager hopes for. And I was certain that letting slip that I played World of Warcraft would ruin it.
Revealing my WoW hobby wouldn't just reveal that I played a different game than everyone else. It'd let on that I played video games on a computer. A computer that I built. And that I spent hours and hours on that gaming computer every night. It'd reveal that video games were not just an idle hobby for me, they were a passion. For someone who so desperately wanted to conform to the norms of the Mildly Popular Suburban White Kid, it was clear that World of Warcraft was some incompatible Nerd Shit. And so I didn't tell anyone.
I'd go to school, be the person who I thought I needed to be in order to be accepted as a Likeable Scholar Athlete; and then I would come home, log into WoW, and be the person who I thought I needed to be to be accepted as a True Gamer.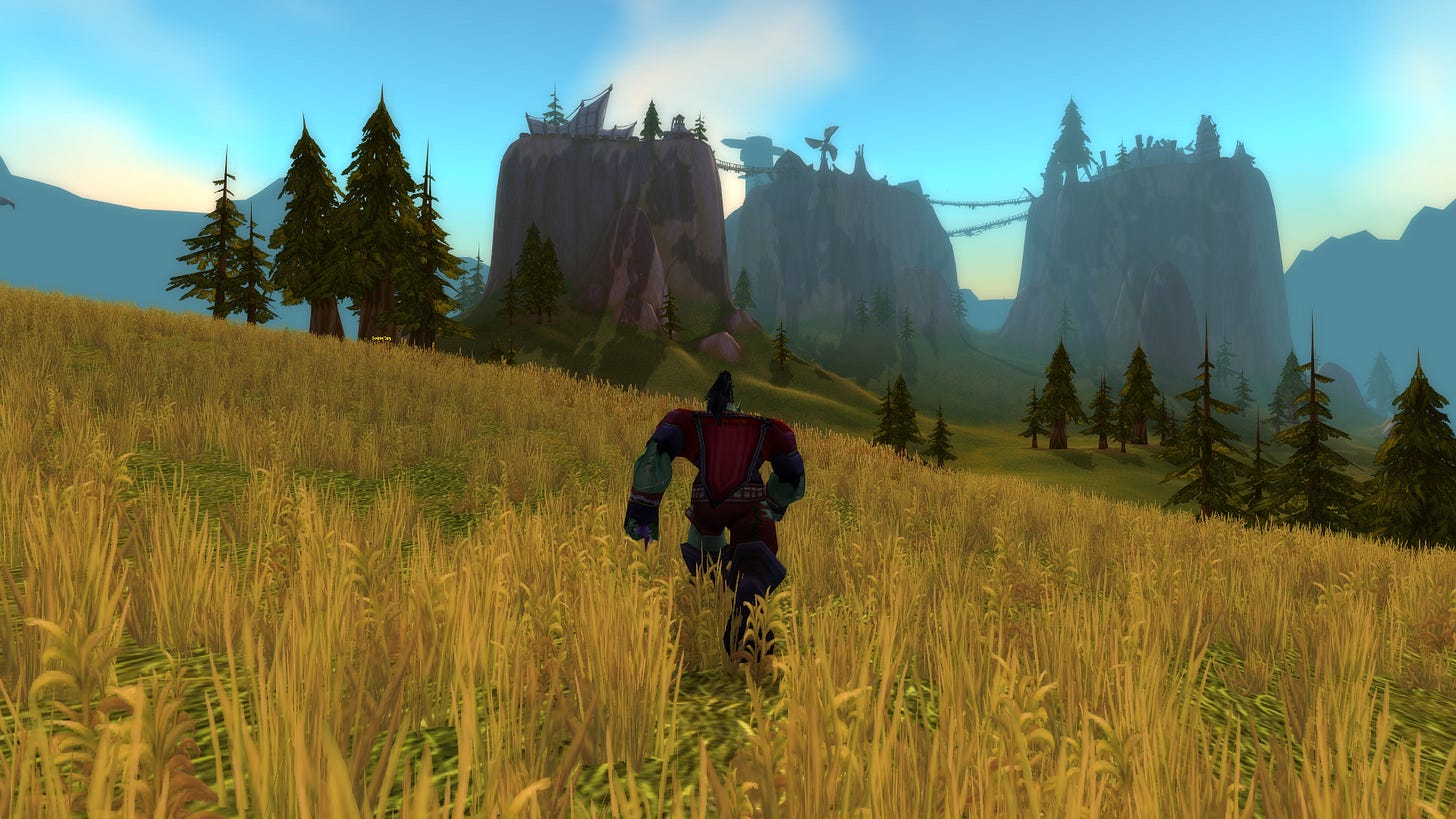 Going into college, I was certain that my desire for acceptance would eventually smother my desire to play World of Warcraft altogether. In high school I could play from the safety of my bedroom, but now, in college, I'd be sharing a dorm room. If I wanted to play WoW, I would have to be OK with someone else watching me play, and them knowing that I spend most nights furiously mashing my keyboard and watching numbers pop out of the heads of elves and dragons and what not. 
But thanks to sheer dumb luck, I never had to confront my WoW complex. In both my freshman and sophomore year, my roommate moved out only a few weeks into the semester, allowing me to continue to play in relative secrecy.
While I continued to hide my World of Warcraft passion from everyone I knew in real life, in the game I harbored another secret — one that if exposed, like my IRL secret, would destroy my social standing within the game. The character I played, an Orc Rogue, wasn't just me. It was also my brother.
Because WoW costs $15 a month to play, and my brother and I only had one computer to play it on, we were forced to share a WoW account. In the beginning, we each had our own characters, and somewhat miraculously, were able to both level our respective toons to 60. We even somehow managed to maintain time-consuming endgame raiding schedules while splitting time on the same computer.
Eventually we realized that instead of each of us pouring time into two characters and getting OK gear, with our combined efforts we could dedicate the time required to be in a hardcore raiding guild, and get the best gear in the whole dang game. And so Metzger the Orc Rogue was born. 
At first, it was difficult for me and my brother to equitably share playing Metzger. But it was easy to convince others in game that Metzger was a single person. We made a point to just tell everyone that Metzger was Steve (that's me). We sounded the same over Ventrillo, our personalities were close enough that no one really suspected anything and most importantly, we were both equally good at the game. (Although my brother will argue that because he set some damage records in Naxxramas, he's the better player. Whatever bud.)
This arrangement only got more convenient when I went to college and my brother started high school. My brother would play when I was out partying and being a General College Idiot, and I would play when my brother had to go to bed, or when he got old enough to be a General High School Idiot. We both wanted social lives, and we both really, really wanted to get the server-first Sunwell clear.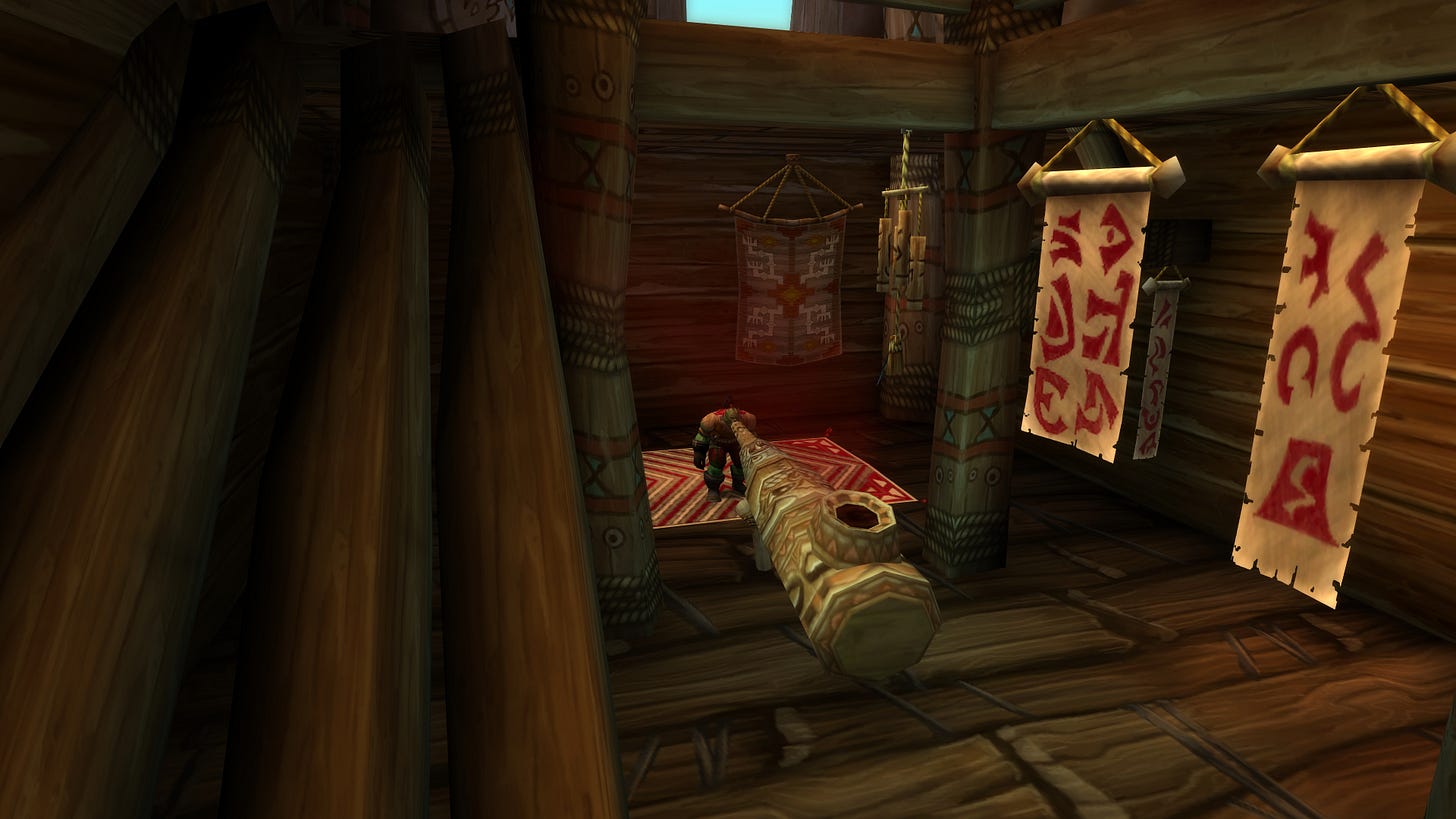 There were close calls, of course. We were briefly kicked out of one guild after one of us let slip that they were Mitch, and not Steve. But that was quickly patched up after I "confessed" to the guild master that I had just let my brother "try out my account" and that it would "never happen again." I think my brother logged on the next night to raid Black Temple, and either no one noticed, or no one really cared. A day before the Wrath of the Lich King expansion came out, I read a rumor that somehow 7/11 stores (They sold video games at one point!) were selling copies early. So eager to get a head start on leveling, I convinced a friend to drive me to a nearby 7/11, and when I walked out empty-handed they demanded an explanation. I told them I played WoW, and, well, they were surprised but never really mentioned it again.
In a better version of this story I'd be forced to confront this silly little double life I was leading, and learn something valuable like Being True To Yourself or whatever. But it never really happened. I continued to play WoW in secret until, well, I got bored with it. It's not that the burden of maintaining these lies became overwhelming, or that I suddenly noticed that WoW was ruining other portions of my life. I just got tired of spending most nights running the same dungeons — spending the first hour of the night clearing all the bosses we had on "farm status" and then enduring the next six hours dying to the same boss we've been dying to (in WoW this is called "wiping") for the past three weeks. This whole freaking charade, of lying to my friends about what I was doing, of lying to my guildmates about who I really was, started with a desire for Epic Loot. And it ended with that desire fading away upon realizing I was spending dozens of hours a week just to make my DPS number go a half-percent with a new piece Epic Loot. So I stopped playing.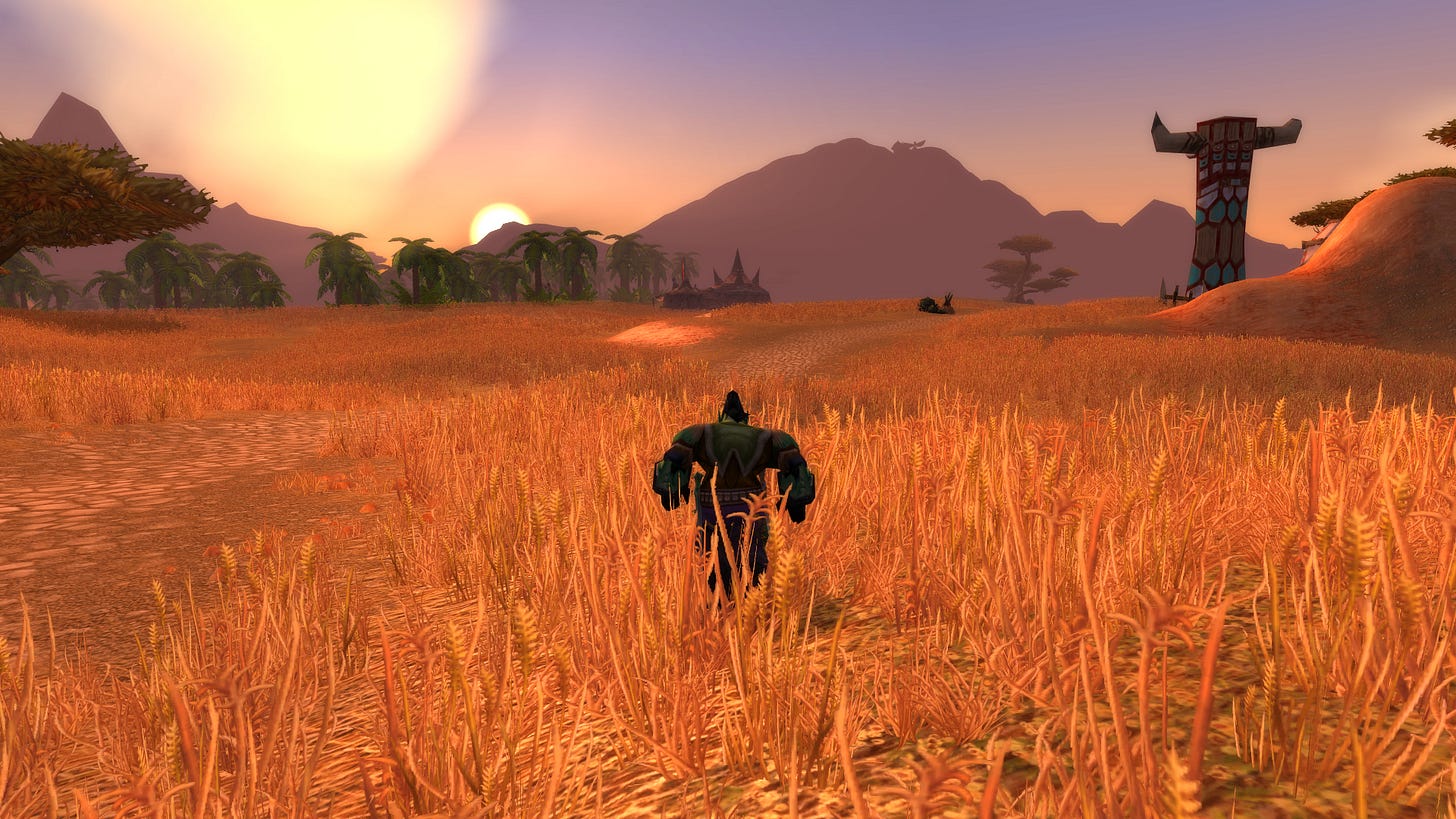 This is all to say that when Blizzard launched World of Warcraft Classic, an officially-supported release that reverts things back to the "vanilla" version of the game, a few weeks ago  I immediately made an Orc Rogue, logged in, and started playing. On the surface, Classic is clearly a clever nostalgia play by Blizzard to lure back the millions of players who've soured over the game's seven expansions released over the past 15 years. It's a chance for all the old heads to relive their glory days, killing the same bosses and getting the same gear they got over a decade ago, this time with the benefit of experience and hindsight.
But for me, Classic is a chance at a fresh start. The game might be unchanged from how it was in 2004 (technically, Classic is running on patch 1.12, which was released in 2006), but I've changed, right? Hopefully, now that I'm 30 and not 16, I can build a relationship with this game that doesn't involve a gnawing sense of dread. 
It sounds dumb as hell and extremely earnest, but with Classic I have a chance to play World of Warcraft as me. And so far, I'm off to a good start, I think. I have my own account, and my own character, an Orc Rogue named Ribs; and my brother has his own account and his own character, an Orc Rogue named Metzger. And look, here I am, writing about playing World of Warcraft under my real name for the entire internet to see (it would be really super and great if the entire internet saw this post.) 
Maybe, I'll find out, the real Epic Loot I was after all along was being comfortable and secure with the things I enjoy. Guess, I'll just have to log thousands of more hours into this game to find out!
Next week: The most miserable place in World of Warcraft, and how people never change.